non-surgical facelift
What is the difference between surgical and non-surgical facelift?
A surgical facelift, as its name indicates, is a full surgery. The patient will be under full anesthesia and have a long recovery time. The results are also non-reversible. It is also costly.
A non-surgical facelift has many advantages:
No downtime or preparation-the entire procedure takes about 1.5 hours, with no special preparations.
More affordable-the cost of the complete treatment is $3000-$4000, compared to the price of the surgical facelift of approximately $25,000
Reversible- the client can reverse the results at any time for whatever reason. A particular enzyme injection is enough to dissolve fillers, and threads can be extracted with a minor cut.
Safe-new fillers are very safe. There are some rare cases when we have to interfere and dissolve them directly after injections.
The non-surgical facelift employes filler, threading, and Botox to provide more volume to the face,  remove wrinkles and define critical facial lines and feature.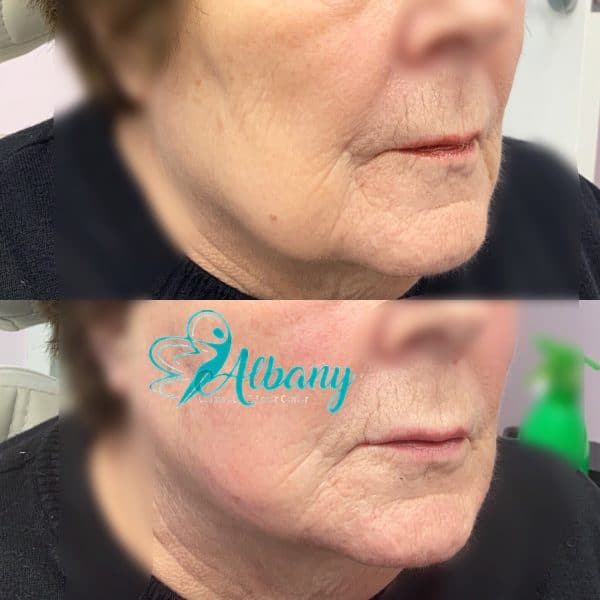 What do we use in the non-surgical facelift?
Fillers
Fillers are often the most important part of any non-surgical facelift. The injection sites are mainly on the upper cheek and around the mouth. The upper cheek injection is to address the Malar atrophy and the nasolabial folds. Filler around the mouth helps with the depressed oral commissure, marionette lines, and lip lines. Filler is often injected in the jawline to help shape the face and give it a higher definition.
Botox may be injected into two main muscles to help to slim the face, these muscles are the Masseter and the Anguli Oris. Dr. Alhallak Ph.D. is one of the few practitioners who perform Nefertiti facelifts.
Threading
PDO threads are a fairly new technology that helps to lift the face in a way that defies gravity. Fillers are great, but they tend to drop down by time due to their heavyweight. The thread has a special structure with miniature claws that hold on the skin from inside to lift it.
Other facelift technologies
We offer a complete portfolio of energy-based facet lift such as Fotona 4D facelift and Ulthera.
At Albany Laser and Cosmetic Center we provide honest and truthful advice to all of our clients. Our consultation is free, and we work with you to ensure you receive the best results.
There is a huge cost and long downtime associated with a surgical facelift. Albany Laser and Cosmetic Center is the only clinic in Edmonton that provides a complete non-surgical facelift, with minimal downtime and affordable procedure.
At Albany and cosmetic and Laser center highly respect our clients, and we provide honest and truthful advice to all of them. Our consultation is for free, and we work with you to get the best of any procedure.